Ritz Carlton Cabo Homes and Condos for Sale
Start Your Search
*All MXN prices are approximate based on daily exchange published by BANXICO. / Todos los precios en MXN son aproximados en base al tipo de cambio diario publicado por BANXICO.
NOM 247: The prices contained in this website are in DOLLARS (US Currency) and in accordance with article 8 of the monetary law, the final price for recordation purposes will be converted into PESOS resulting from the official exchange rate on the date payment is due. In accordance with NOM 247, prices shown in DOLLARS can be converted into PESOS by accessing the following link and performing the corresponding arithmetic multiplication per the current exchange rate.
https://www.banxico.org.mx/tipcamb/main.do?page=tip&idioma=en
---
NOM 247: Los precios contenidos en este sitio web están en DÓLARES (moneda de los EUA) y de conformidad con el artículo 8 de la ley monetaria en vigor, el precio oficial a registrar en la escritura será el de PESOS que resulte del tipo de cambio oficial en la fecha que el pago sea obligatorio. De conformidad con la NOM 247, los precios en DÓLARES se pueden consultar en PESOS mediante la multiplicación aritmética del precio mostrado en DÓLARES por el tipo de cambio en vigor para solventar operaciones en dólares moneda de Los EUA.
https://www.banxico.org.mx/tipcamb/main.do?page=tip&idioma=sp
Ritz Carlton Cabo Homes for Sale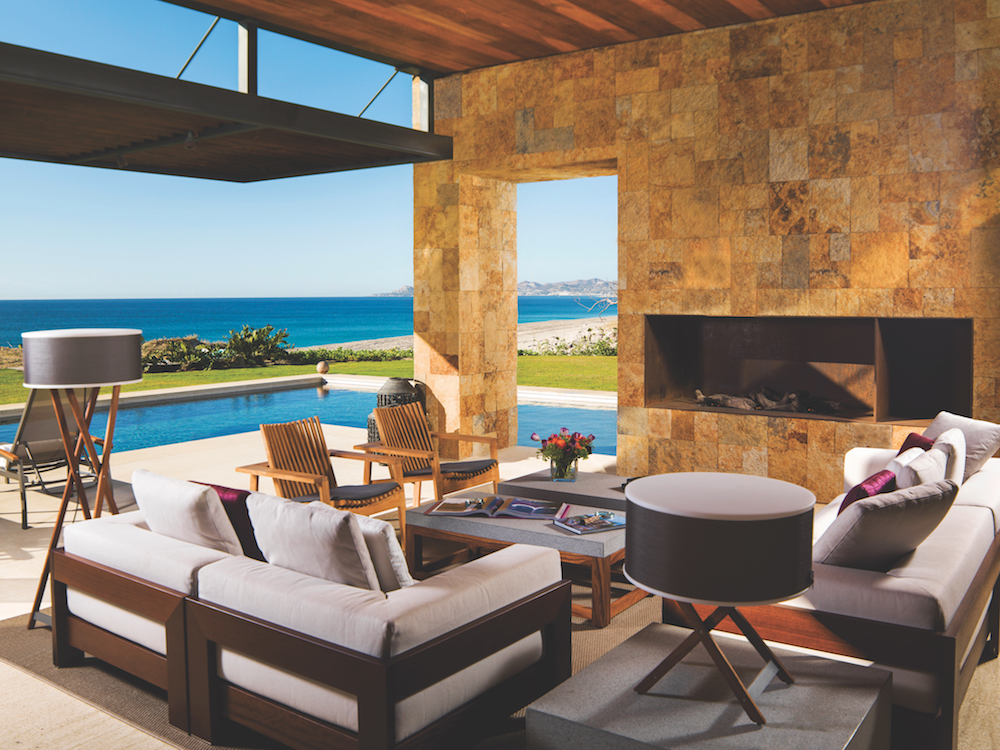 Ritz Carlton Cabo homes are renowned for their luxurious and modern features. From reliable security systems to spacious living spaces, buyers have several options when investing in a Ritz Carlton Cabo home. The homes are built with an eye for quality and convenience, making them ideal for anyone looking for a luxury residence.
In addition to the beautiful architecture, Ritz Carlton Cabo homes offer access to various amenities. A Ritz Carlton Reserve Residence is like a hotel experience, with captivating scenery, access to world-class restaurants, spa services, and a private beach. You can enjoy your time on the golf course, lounge in the infinity pool, or relax by the sea. Let's explore the features that make Ritz Carlton Cabo homes so desirable.
Enchanting Locality
Whether you're looking to call this special place home or invest in a property with potential for rental income, a Ritz Carlton Cabo home is the perfect fit. The area around Ritz Carlton Cabo homes offers a variety of outdoor activities, including swimming, fishing, kayaking, paddle boarding, and more.
Ritz Carlton Cabo homes are in a stunning natural setting, surrounded by a fascinating landscape. Residents can enjoy incredible views of the Sea of Cortez, just a few steps away. The beautiful landscape also provides incredible photographic opportunities and many activities to explore.
The lush vegetation, diverse wildlife, and stunning sunsets make this a magical place to call home. Its exotic location is part of the Ritz Carlton Cabo home experience, making it an attractive purchase for those looking to relocate or invest in a new property.
Luxurious Amenities
Ritz Carlton Cabo homes are known for their luxurious amenities. Residents also have access to various restaurants and bars, offering a taste of Mexico's finest cuisines. From spacious living spaces to modern design and materials, the homes are built to make their residents as comfortable as possible.
The interiors of Ritz Carlton Cabo homes are designed with sophistication and elegance in mind. The homes feature high-quality materials such as marble, granite, and hardwood. The attention to detail is evident in the intricate craftsmanship of the furniture and fixtures. The amenities in the homes also include:
Golf Club
Experience the finest golfing in all of Los Cabos with a membership to Ritz Carlton's exclusive golf club. Enjoy two distinctive golf courses designed by Jack Nicklaus and Greg Norman, with fascinating views and challenging holes. Experienced concierge staff provides exceptional service that sets the club apart from others. A culinary palapa offers flavorful Mexican dishes in a relaxed atmosphere.
Dining
The in-residence dining is a perfect way to enjoy an evening with friends and family or take a romantic night out. The chefs prepare gourmet meals from around the world and create a customized experience to suit any taste. With room service available 24/7, guests can also enjoy a meal from the comfort of their own homes. The Ritz Carlton Hotel Company, LLC also offers a variety of other dining options.
Spa Facility
Treat yourself to some well-deserved pampering with a visit to Ritz Carlton's full-service spa. Relax in the sauna and steam room, or take a dip in several pools available. The exquisite spa facilities include a fitness center, yoga classes, and a selection of massage treatments. The spa's luxurious amenities provide an escape from reality that every resident may enjoy.
Beach Club
Experience the perfect day at the beach with a membership to Ritz Carlton's private beach club. Relax with a refreshing drink from the beach bar, or dip in one of the pools. The beach club also offers a variety of activities and classes to make your time at the beach even more exciting.
High-End Technology
In addition to luxurious living spaces, Ritz Carlton Cabo homes come equipped with the latest in high-end technology. From home automation systems to integrated audio-visual systems, buyers have access to the best in modern technology.
This exceptionally chic style creates a warm and inviting atmosphere, perfect for entertaining friends and family. Residents can enjoy many technology features, such as smart home systems, theater systems, and HDTVs.
Dedicated Reserve Residence
West Enclave, a Ritz Carlton Reserve Residences, provides buyers with luxury. Exclusive access to single homes with private courtyards, all featuring modern and contemporary design. These Residences surround the elegant Ritz Carlton Cabo Reserve hotel, Zadún.
Residents of West Enclave can enjoy private access to the legendary Ritz Carlton service, including a dedicated residential management team, anticipatory concierge service, and private beach areas.
This master-planned community offers huge villas with lounging spaces and mesmerizing views of the oasis within the desert, providing a sense of serenity and relaxation within the luxury of Ritz Carlton. Floor-to-ceiling windows allow natural light to flood the rooms, while custom lighting enhances each room's ambiance. The fire pit and a grill station are perfect for intimate gatherings, while the lush landscaped gardens offer an idyllic backdrop for a romantic evening.
Situated in Puerto Los Cabos in San Jose del Cabo, Baja California Sur, the Ritz-Carlton Cabo homes provide a paradise for those looking to purchase a luxury property in Mexico. With its enchanting locality and dedicated Reserve Residences, the Ritz-Carlton Cabo homes provide a truly unique experience to its residents.
Buy a Perfect Luxury Home in Ritz-Carlton Cabo
Ritz Carlton Cabo homes are perfect for those looking for uncompromising luxury and convenience. The Ritz Carlton Cabo homes offer an unparalleled lifestyle experience with top-of-the-line amenities and a world-class marina.
You can get the whole ownership of residences at Ritz Carlton Cabo and experience the best service. These homes are perfect for those who want to experience the utmost convenience.
If you're looking for a perfect luxury home, you can search various websites that offer data relating to Ritz Carlton Cabo homes for sale. Most of these websites are deemed reliable. However, they don't have the same level of expertise that you get from a realtor.
So, hurry up and buy your dream home in Ritz Carlton Cabo and get the optimum level of luxury that you've always wanted.
Other people who searched for Ritz Carlton Cabo Homes for sale also searched for the following:
Puerto Los Cabos Homes for Sale
Ranchos San Lucas Homes for Sale
Villa La Estancia Homes for Sale
Ritz Carlton Cabo Homes for Sale
Rancho Cerro Colorado Homes for Sale
Cabo Homes Under 500k for Sale
Cabo San Lucas Homes 1 to 3 Million Dollars
Cascadas de Pedregal Homes for Sale
El Encanto de La Laguna Homes for Sale
El Encanto Laguna Homes for Sale
Espirtu Del Mar Homes for Sale
Four Seasons Cabo Homes for Sale
Hacienda Beach Club Homes for Sale
Los Cabos Homes 500k to 1 Million Homes for Sale
Los Cabos Homes Over 3 Million
Maranara Homes for Sale
Misiones Homes for Sale
Old Lighthouse Golf & Ocean Club Homes for Sale
Palmilla Villas de Oro Homes for Sale
Palmilla Villas Del Mar Homes for Sale
Park Hyatt Cabo Homes for Sale
Puerta Cabos Village Homes for Sale
Resort Pedregal Waldorf Astoria Homes for Sale
San Jose Del Cabo Homes for Sale
Oceana Wellness Residences for Sale