Villa Estancia Homes For Sale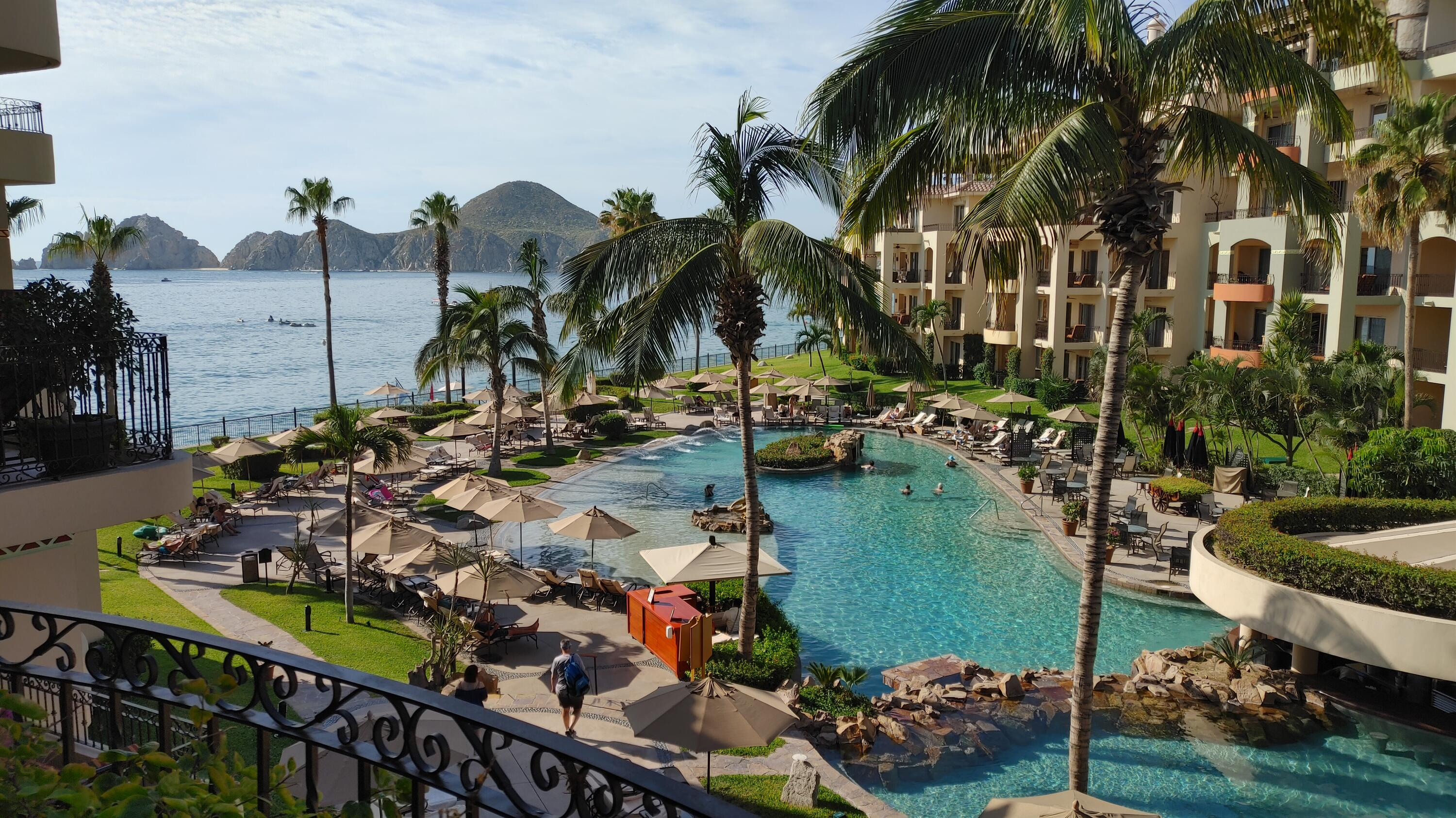 Villa La Estancia is resort-style living in Cabo San Lucas, offering luxury villa real estate listings and fractional ownership opportunities.
This stunning resort is located downtown Cabo San Lucas along beautiful Medano Beach, with breathtaking ocean views stretching to Land's End. Villa Estancia homes are a hot commodity located on Mexico's Pacific Coast.
Enjoy modernly designed open-concept floor plans, gorgeous terraces with sweeping ocean views, and more. For those looking for a luxurious residential experience with easy access to paradise, look no further than Villa Estancia.
There is breathtaking scenery to take in, world-class amenities such as nearby golf courses, state-of-the-art fitness centers, spas, and rejuvenating infinity pools, and an incredible nightlife and dining scene.
If you've been dreaming of a home in one of the most stunning international resort destinations, stop dreaming and start living with Villa Estancia's stunning homes for sale. Let's learn more about life at Villa Estancia.
Fractional Ownership
If you're looking for a wonderful vacation retreat, fractional ownership condominium is the perfect option. With this program, you can enjoy full ownership benefits without the financial burden. You will have access to your home 4 to 6 weeks out of the year without worrying about maintenance or property details.
All this while still taking advantage of all Villa Estancia's amenities and services like concierge services, tennis courts, spa Los Cabos, and more. Fractional ownership at Villa Estancia gives you the best of both worlds, luxurious living, and the opportunity to explore all the wonders of Los Cabos.
Vacation Rentals
For those who don't want to commit to fractional ownership or full ownership, Villa Estancia offers vacation rentals for those looking for a short-term stay in paradise. Enjoy breathtaking stunning ocean views from your private terrace, soak up the sun on the nearby Medano Beach, and explore all downtown Cabo San Lucas offers.
Plenty of additional services and amenities are included in your stay, including concierge services, housecleaning, and more. Allow Villa Estancia to make your stay as effortless as possible so you can enjoy a worry-free vacation.
Full Ownership
For a full ownership experience, Villa Estancia provides the perfect opportunity to make Los Cabos your home. With several stunning homes for sale, you will have access to all of the amenities this incredible resort offers.
Enjoy breathtaking ocean views, relax in the infinity pools, play golf, and enjoy all that Baja California Sur offers. Life at Villa Estancia can be truly magical. Every day is an opportunity to experience something new in a beautiful setting.
The Beauty of Villa La Estancia
Villa La Estancia consists of luxury residences, with each unit fully equipped to provide a luxurious and comfortable stay. Enjoy modernly designed open-concept floor plans that make for easy entertaining and gorgeous terraces perfect for taking in the incredible views of Los Cabos.
Villa La Estancia is situated on one of the most beautiful beaches in Mexico, Medano Beach, and is conveniently located within walking distance of downtown Cabo San Lucas. This makes it the perfect place for an unforgettable getaway or a luxurious residential experience with easy access to all Los Cabos has to offer. Well, no one wants odd, boring, and unattractive content.
Villa Estancia is not just a place to stay but an opportunity to discover the beauty of Los Cabos like never before! Its world-class amenities and breathtaking views make it a paradise for everyone.
Cost-Effective Property To Buy
Villa Estancia provides the perfect opportunity to invest in a cost-effective property. With a wide variety of home options, you can find something that suits your budget and lifestyle needs. Whether you are looking for a single-family home or an estate-style property, Villa Estancia has what you need at an affordable price.
For those property buyers looking to invest in something that appreciates over time, Villa Estancia homes for sale are the way to go. Not only will their stunning designs and luxurious amenities capture your heart, but the cost-effective property values of this development will have you saying 'thank you' whenever your property taxes come around every year.
The convenience of these homes also can't be beaten; plenty of nearby shopping, restaurants, and arts venues mean more time spent enjoying yourself while you watch your property appreciates.
A Perfect Place To Call Home
Villa Estancia homes for sale are perfect for those looking for a place to call home. The attractive facades of the estate-style homes, tasteful landscaping, and luxurious amenities will make this development feel like an oasis away from the hustle and bustle of everyday life.
Whether you're a first-time homeowner or looking to upgrade your living space, we have an array of options available to suit your unique and individual needs. From luxury single-family homes with lake views to spacious townhouses and condos in gated communities, there is something for everyone here.
One of the best features of Villa Estancia is its location; situated between vibrant city life and peaceful nature, you can easily enjoy both worlds when you call this community home. With its abundant amenities, safe and inviting atmosphere, and central locale, it doesn't get much better than Villa Estancia.
Landscapes That Bring Nature To You
Villa Estancia homes for sale are surrounded by picturesque landscapes that bring nature to your doorstep.
Whether you are looking to relax in the sun or enjoy the sights and sounds of a serene environment, Villa Estancia's natural surroundings make it a perfect place to escape the hustle and bustle of city life.
With its manicured lawns, lush gardens, and serene lake views, the development's landscape is designed to make you feel at home in comfort and style.
The Perfect Mix Of Luxury And Comfort
Villa Estancia homes for sale offer the perfect mix of luxury and comfort. Buyers can find a variety of home styles, from traditional single-family homes to spacious townhouses and condos.
Each design is carefully crafted with luxurious features such as hardwood floors, granite countertops, stainless steel appliances, and designer lighting. These amenities create a high-end living experience suitable for any family or individual looking to upgrade their lifestyle.
Buy The Best That Money Can Buy
For those looking to invest in a cost-effective property, Villa Estancia homes for sale offer the best that money can buy. With high-quality construction and thoughtful design, these properties promise to be low maintenance and highly desirable for years to come.
The management team at Villa Estancia is dedicated to providing excellent customer service and helping its residents achieve their dreams of homeownership.
As a buyer, you will be in good hands every step of the way; from your initial consultation to closing day, they are there to make sure everything is as easy and stress-free as possible. So, don't wait another minute; explore Villa Estancia and find the perfect place to call home.
Other people who searched for Villa Estancia homes for sale also searched for the following:
Puerto Los Cabos Homes for Sale
Rancho San Lucas Homes for Sale